This is the first junk mail review, which I've decided to start because, despite there being a "No Junk Mail" label on my mailbox, people still think they're important enough to ignore it. Well, what's more important than a little online marketing I wonder?
Louisa of "Sa Vie eco-beauty with attitude" has a love of the caps-lock button, and a bunch of grammar issues which would leave strong teachers weeping into their marking.
"SA VIE", IT'S HIS LIFE, IT'S HER LIFE. IT'S OUR LIFE TO BE LIVED TO THE FULLEST. ….LIKE THE FRENCH DO WITH SUNSHINE, CHAMPAGNE, CAMEMBERT AND IMMACULATE GROOMING.
A friend says "They should have just said YOLO".
Some highlights
LIFE IS TOO SHORT TO FORGO THE LITTLE LUXURIES, BUT THEY SHOULDN'T COST THE EARTH… LITERALLY"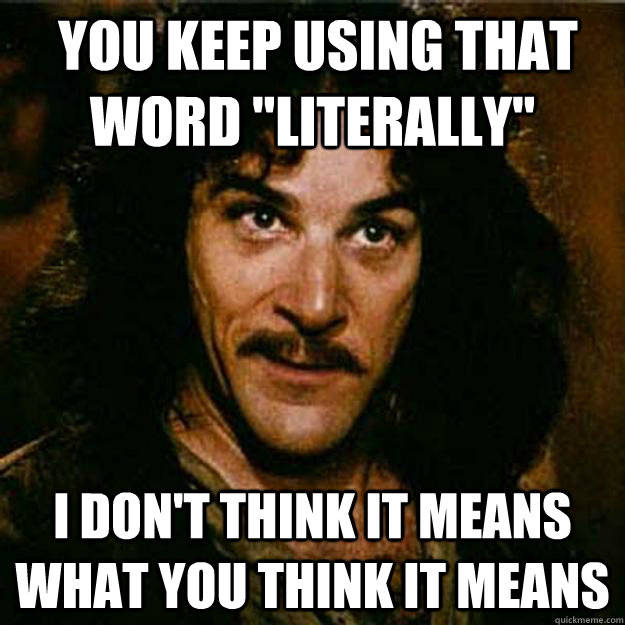 This is what you're actually saying: The Earth as represented by the image below is equal to the "little luxuries" (whatever they are) that you're using in your advertising.
For help with this, check out The Oatmeal poster on the usage of the word "literally". You do get a point back for the correct number of periods in the ellipsis though.
ALL PRODUCTS USED ARE AS NATURAL AS POSSIBLE, CERTIFIED ORGANIC SUSTAINABLE AND FAIR TRADE WHERE CAN BE FOUND. WE DIG THROUGH THE BS SO YOU DON'T HAVE TO….
Where to begin? You're missing some punctuation for starters, because "certified organic sustainable" is grammatically useless without a comma between "organic" and "sustainable". The comma is a substitute for an "and" in the list you've made, as you have the "and" before "fair trade".
"Where can be found" is another grammatical boo-boo. Insert a "they" in there and you'll be fine, like this: "where they can be found". However, you might want to reconsider "found" in the sentence as it sounds like you're wandering aimlessly around hoping for some organic, sustainable and fair-trade products to magically appear. Perhaps substitute "sourced" instead, which gives the implication that you're going through some specific channels to get them. Additionally, what are the organic, sustainable and fair-trade products? I can get fair-trade, organic and sustainable potatoes for my dinner, but I'm not sure if it's something you'd be using in your salon.
And "We dig through the BS so you don't have to" is problematic. First, BS seems at odds with the image you're attempting to build of a high-quality beauty services company. Would you use the complete word — "Bullshit" — in the advert, or do you think it might turn people away?
A friend hits this on the head: "That's just what you want to think about: A beautician digging through a steaming pile of excrement in a beauty salon!"
Second, "Dont" has an apostrophe to substitute for the "o", it's a contraction of the words "Do" and "Not".  See the Bob the angry flower guide for apostrophe usage for more information. Finally, four periods again as an ellipsis.
The photo of the smoker at the bottom makes things interesting
WARNING: smoking is damaging to your beauty
So why include an image of it in the advert? Not only are cigarettes filled to the top with chemicals, and therefore not even remotely close to being organic, sustainable and fair trade, but you've admitted it'll damage your health.
The bottom-line here is that you've mixed your message and changed focus from organic health and beauty to looking cool but ruining your lungs with tar and petroleum by-products. But this is as nothing to the shouty language you're using and poor grammar.
And that's just the first side!
The flip-side is problematic in a whole new way.
Apart from "the essentials " option being to wax your pubes so you look like a twelve-year-old, we have a new term, a portmanteau of "Cosmetic" and "Pharaceutical"
"cosmecutical skincare"
Wikipedia notes that cosmecuticals puport to have health benefits, and are applied to the skin. The Sydney Morning Herald, the New South Wales newspaper of record indicates that the term is regarded as being pseudoscience, and a new way to get around the old nugget "removes wrinkles, guaranteed!". Pseudoscience, for those not in the know, is unproven science backed-up by opinion and a lack of scientific rigour.
3/10 
See me after class.