George Brandis, Australia's 36th Attorney General has expensive tastes in bookcases. While in opposition he ordered a $7000 set of shelves to house his $13000 worth of taxpayer-funded reading material. It's said that if the shelves were laid end-to-end, it would be bigger than an Olympic swimming pool. That's 50m for those not in the know.
Moving into government has left George without anywhere to put his books as the old shelves didn't travel well. But not to worry, he's ordered some new ones at a cost of $15,000. Apparently these come with a ladder and can be dismantled a bit easier.
Given that knowledge is power, I decided to work-out what the original shelves should have cost so that I was forearmed with appropriate knowledge for criticising the cost of the new.
Comparing shelves
Let's assume each of the seven sections of the existing shelves is equivalent to the ever-reliable Ikea Billy bookshelf, retailing for around $70. The Billy is slightly shorter than what I'd estimate is the actual height of George's shelves, but it'll give us a ballpark figure to work from. Seven sections for seven Billys; Sounds like a Rogers and Hammerstein musical to me.
Even if we were to quadruple the value of the Billy, we would still get the bookshelves for under $2000.
The Billy advantage is their ease of assembly and disassembly, which beats the current shelves hands-down. However, a flatpack is probably pushing the envelope for our George, given his workload and despite the fact he's got a squabble of aides who could be very handy with an Allen Key.
Let's go to the professionals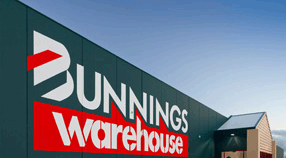 The most patriotic timber to make the shelves from would be Tasmanian Oak, a hardwood which I'm assured by my local Bunnings store is the most expensive timber they've got at $151 each. Marine Ply was the recommended backing-board, which clocks-in at a hefty $79 per sheet.
The man I spoke to was extremely helpful, and I'd recommend going into the Northcote branch if you ever feel the need to build a stupendously expensive set of bookshelves.
The structure
Tasmanian Oak comes in sections of 600 x 29 x 4.5cm, which should be just right for this job. Based on pictures of the shelves, it looks like approximately 80m of this noble timber for construction. That's seven meters by three meters with 70 shelves.
We would therefore need approximately 13 pieces of timber (80/6 = 13.33). Let's call it 15m to be on the safe-side.
Cost: 15 x $151 = $2265 (call it $230o and we'll buy some nails and a hammer to assemble them with).
The backing
As we're talking about a 7 x 3m shelving unit, we will need around 21 square meters of backing.
Marine Ply measures 2.5 x 1.2m and we'll need seven of them for the bottom and 3 and one half for the top, cutting these in half to make-up the excess required. Let's call it four to be on the safe-side as I doubt Bunnings will sell us a halves, even if we are representing the federal government.
Cost: 11 x $79 = $869 (Round this up to $900 and we can buy ourselves a tenon saw).
Finishing
The most expensive timber finish at Bunnings today is the Intergrain Ultraclear Interior finish, in a four litre can costing $134.50. It's said to cover 14 square meters per can.
Based on previous measurements, we should be able to coat three pieces of timber per can with a little left-over for the edges, coating both sides of the timber with one coat. Fifteen pieces of timber would take five cans. Let's call it 10 to make we have a good finish so George's books can slide in and out without effort.
The backing is an even three square meters per sheet, and some mathematics gives us 33 square meters which will take 2.35 cans of the varnish. Again, we have to round-up, so that'll be 3 full cans.
Cost: 10 cans + 3 cans = 13 x $134.50 = $1748.50 (call it $1800 to include a reasonably decent paintbrush).
Construction
My friend at Bunnings described this as "a bloody big shelf", and he's right. The whole thing would need to have a lot of heavy books in it to avoid falling over and prematurely ending the life of any errant politician who might wander beneath it.
Thankfully George has the books and the will to use them.
Ballpark figures for this work is approximately $100 per hour for a suitably professional job, about six times the minimum wage in Australia. At a conservative estimate, the job would take 20 hours to complete.
Cost: 20 x $100 = $2000
Grand total
All-told the total cost of this outrageously guesstimated exploit is $6965, just shy of the $7000 spent on the originals.
So the conclusion one can draw is that for our erstwhile leaders, quality costs serious money, and that to get that in Australia, you should expect to pay top-dollar.
I wonder what the workers of SPC, Toyota and Holden will make of that?
Addendum: This article was written a week ago, but held-over because I'd submitted it for publication. Better luck next time seems to be what I can read from the silence I've received…